I have received a number of emails and updates about a key bill which may be sneaked through Congress during the lame-duck sessions.
It is called HR 3711, or more specifically:
Chicano Park Preservation Act

The park is located in San Diego, CA.
Check out some photos of the area:
This photo is particularly disturbing: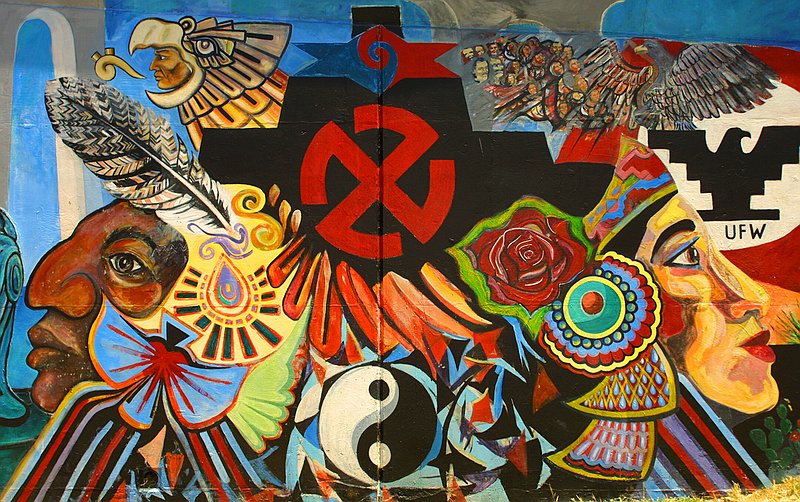 Notice the Nazi swastika right in the middle of the mural.
Yes, indeed. The Chicano movement and La Raza ideology is based on neo-nazi hatred. The author and intellectual godfather of the movement, José Vasconcelos, was a Mexican with Nazi sympathies, and he wrote the Chicano movement primer La Raza Cósmica.
This is serious.
Congress should take no steps for Chicano Park to turn the location into a national monument. The area is a national disgrace!
Here is the text of Congressman Vargas' bill:
To authorize the Secretary of the Interior to conduct a special resource study of Chicano Park, located in San Diego, California, and for other purposes.
Be it enacted by the Senate and House of Representatives of the United States of America in Congress assembled,

This Act may be cited as the "Chicano Park Preservation Act".
(a)
Study
.—The Secretary of the Interior shall conduct a special resource study of Chicano Park and its murals located in San Diego, California.
(1) evaluate the national significance of the site;
(2) determine the suitability and feasibility of designating the site as a National Historic Landmark or Affiliated Area of the National Park System;
(3) consider other alternatives for preservation, protection, and interpretation of Chicano Park and its murals by Federal, State, or local governmental entities, or private and nonprofit organizations;
(4) consult with interested Federal, State, or local governmental entities, private and nonprofit organizations or any other interested individuals; and
(5) identify cost estimates for any development, interpretation, operation, and maintenance associated with the alternatives.
(c)
Applicable Law
.—The study required under subsection (a) shall be conducted in accordance with section 100507 of title 54, United States Code, except that the study shall not consider any options that involve Federal acquisition of lands, interests in lands, or any other property related to the Chicano Park and its murals.
(d)
Report
.—Not later than 18 months after the date on which funds are first made available for the study under subsection (a), the Secretary shall submit to the Committee on Natural Resources of the House of Representatives and the Committee on Energy and Natural Resources of the Senate a report containing the results of the study and any conclusions and recommendations of the Secretary
The sponsor of the legislation Congressman Juan Vargas:
Vargas represents California's 51st Congressional District which includes the southern portion of San Diego County, all of Imperial County and California's entire US/Mexico border. Vargas was first elected to the U.S. House of Representatives in 2012 and is currently serving his second term in Congress. He serves on the House Financial Services Committee and the Committee on House Administration.
Here is a statement exposing the subversive intentions of the bill:
Just when you thought the GOPe and Congress was finally getting our "America First" and secure our borders message, they go and jump in bed with Mexico/La Raza to try to put their anti-America, seditious "Chicano Park" in San Diego into the U.S. National Park system! This bill is sponsored by Mexican loyalist Rep. Juan Vargas (D-San Diego) and other radical Marxist leftists in our Congress. And the naïve or corrupt GOP leadership is trying to approve it for them before Trump takes office! They are hoping no one is paying attention as we enter the holiday season.
Call your REPUBLICAN Congress member now! Tell them to kill this bill! Or at least vote NO. It will only take a few Republican House members to vote yes for the radical leftist Dems to sneak this through before Congress adjourns for December starting Friday.
Update:
No park, no national monument should praise enemies of the United States.
The murals are decadent and despicable, referencing blood, death, hearts broken and torn--all references to the Aztec pagan sacrifices of human beings.
The murals in the park showcase Spanish conquistadores murdered or destroyed, or in skeletal form.
Here is more information to learn about what the "Chicano" movement is really about:
La Raza claims that the Southwestern United States belongs to Mexico, and that they have a stern duty to take back that portion of our country.
They also engage in cult-like, neo-pagan rituals.
There is also a virulent disdain for Anglos, or for anyone who is not Chicano.
The whole concept of this identity is based on hatred and misinformation, as well as storied propaganda forced upon Hispanic students.
Here is more
One constituent reported the following treatment from California Congressional representatives:
I have called or e-mailed a number of representatives. The staff of a couple were sympathetic and said they would watch my video and forward the info. Others hung up on me.
The staff of Tom McClintock, who is head of the subcommittee that approved the bill, hung up abruptly on me. Duncan Hunter's staff was not too friendly, either. Issa's staff said they would look at the video below. Louie Gohmert staff person was interested enough to give me her e-mail address and tell me to send the video to her. She said she would let Louie know about it. Gohmert was actually one of these, who voted for it in the committee. He may not have realized what it is about though.
Did Tom McClintock vote for this bill?!
Unbelievable! Isn't anyone paying attention to this legislation?
The last thing that any Congressman--and especially any Republican--should be doing is to vote along with legitimizing and promoting internal hatred for the United States of America. We have once again a bad case of representatives' voting for something which they have not read, or do not are about!
If you are talking to them on the phone and they are willing to look at the video, but won't give you an e-mail address, you can tell them to search YouTube for "Chicano Park Anti-American".
The bill has passed the House.
It's headed for the United States. It's not too late to stop this legislation
There are key US Senators whom We the People can contact to stop this legislation.
Here is a partial list of pro-immigration enforcement US Senators (two who just won re-election in tight races).
Contact them and urge them to vote NO! (and filibuster) the Chicano Park Preservation Act (HR 3711):
Lisa Murkowski (R - AK) Chairwoman of the Energy and Natural Resources Committee
709 Hart Senate Office Building Washington DC 20510
(202) 224-6665
Contact: www.murkowski.senate.gov/public/index.cfm/contact
Tom Cotton - (R - AR) Class II
124 Russell Senate Office Building Washington DC 20510
(202) 224-2353
Contact: www.cotton.senate.gov/?p=contact
Ted Cruz (R - TX) Class I
404 Russell Senate Office Building Washington DC 20510
(202) 224-5922
Contact: www.cruz.senate.gov/?p=email_senator
Ron Johnson (R - WI) Class III
328 Hart Senate Office Building Washington DC 20510
(202) 224-5323
Contact: www.ronjohnson.senate.gov/public/index.cfm/email-the-sena...
David Perdue (R - GA) Class II
383 Russell Senate Office Building Washington DC 20510
(202) 224-3521
Contact: www.perdue.senate.gov/connect/email
Pat Toomey - (R - PA) Class III
248 Russell Senate Office Building Washington DC 20510
(202) 224-4254
Contact: www.toomey.senate.gov/?p=contact
It is not too late for those insistent on stopping this terrible bill!