President-Elect Donald Trump got a phone call. It was the President of Taiwan, Tsai Ing-Wen.
She signaled her support and offered congratulations to our leader.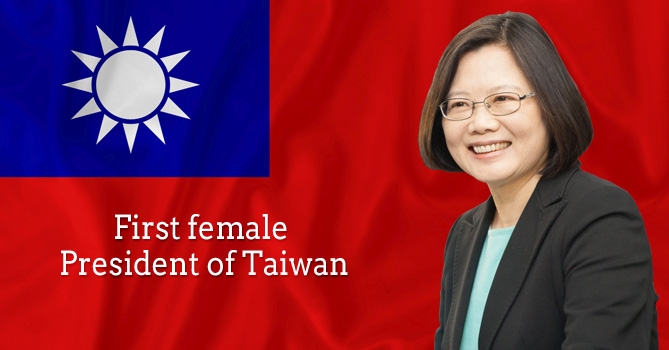 Reminder, embittered liberals: she called him, so back off and take a deep breath. Looking for any last-minute push for relevance, the media insisted in another fitful field day following that call. "How could Trump take a phone call from the opposition nationalists?" For some left-wing reason (actually, no reason at all), the President-Elect shouldn't be talking to Taiwanese President without permission from Communist China.
Not anymore, folks. That's not how Trump rolls.
Traditions and arrogant assumptions are getting rejected all over the world.
The "little people" have stood up to the British elites, the American media (and the Democratic Party). Even the Italians rejected centralized governance and European Union austerity.
It's a new morning in the world.
So, traditions are falling to the wayside …
Another "tradition" should be put away, as well: the global(ist) obsession with "gay marriage."
And Taiwan, incidentally enough, is the next battle ground.
Taiwan's new President, a member of the island nation's loyal opposition, has pledged a commitment to helping the poor, the disadvantaged. Like a number of left-leaning politicos, she is also reaching out to the "LGBT" movement.
I have great hopes for the Asian countries, just as I have witnessed the Latin American nations resist the homosexual agenda and the gender-bending ideologies of anti-Western snobs.
To their credit, the Taiwanese people elected a popular leader to their Presidency, who resists a strong alliance with Beijing. She also bested another attempt by President Barack Obama to influence a foreign election for his limited ambitions. Besides, President Tsai's ascension is the latest step in a trend away from the autocratic Kuomintang, which has held decades-long one-party rule in Taiwan, since the 1940s, when the Nationalists fled China following World War II.
Still, she has a distinctly "progressive" platform, to be sure.
Flag of Taiwan
I learned a great deal about her party (The Democratic Progressive Party) and their history at a local celebration held in Monterey Park, California. The event took place on Veterans Day, 2016—three days after Donald Trump's historic and unprecedented win against Hillary Clinton, defeating the media, political elites of both parties, plus the corporatist, globalist interests from Washington to Brussels.
The Democratic Progressive Party of Taiwan had sent delegates to the United States. They were learning about the electoral and political systems of the United States. Two Congressman attended—Judy Chu of Pasadena, and Ed Royce of Brea. Local officials informed me that Republican efforts have committed to working with the DPP to bring them more to the political center. The invitation from a DPP ambassador was well-appreciated (they wanted to learn about local as well as national politics). I could not turn down the opportunity.
So, my knowledge of Taiwan—the nation's culture and politics—has grown.
Then surprise, surprise: one month later, I received an email from a correspondent at Taiwan's Central News Agency in Los Angeles.
His request was abrupt yet professional:
I do not know how you think about those who live in Taiwan after you read all stories above.
For me, it is too naive for Taiwanese to understand how gay marriage may hurt Taiwanese society seriously.
In view of this, I would like to write a report to introduce impacts and effects of gay marriage to Taiwanese after gay marriage was legalized for several years in California.
Could you please help me?
All I need your help is offer me some actual and real examples, stories or incidents as to impacts and effects of gay marriage over California, please.
I will be very grateful if you would like to help me for my article as soon as you can.
I was surprised that a member of the press would want to know the effects of "gay marriage" and report on the consequences for the readership in the home country.
Most media types want to promote the destruction of family as a net positive.
First, I provided a litany of clear talking points, however politically incorrect they may be:'
1. Homosexuality is destructive.
2. It is neither genetic nor an innate characteristic of human beings: a very inconvenient truth for the Left.
3. Homosexuality and transgenderism are not civil or natural rights, but behaviors.
4. Marriage—by design, biological recognition, as well as societal and civil preference—must remain for one man and one woman.
5. Gay marriage is not progressive, but regressive. Ancient Romans and Greeks engaged in similar "gay marriages", to the utter destruction of the Ancient Western world.
Click here.
The health factors cannot be ignored.
I documented the psychological and physical risks associated with homosexual conduct (freely acknowledged by homosexuals themselves), all detailed in the liberal-leaning
LA Weekly.
(
Click here
and
here for more information
).
I then related the battle which Californians across the state, from the Christians colleges to the local churches, to stop SB 1146, a bill which in its original form would have shut down Christian colleges and destroyed religious liberty.
Pro-life, pro-family forces have halted this destructive movement in other countries. Let us hope and pray that the free people of Taiwan will embrace true democratic progress, shout "Shi!" ("Yes!") to life and liberty and reject gay marriage in their country.