Law enforcement is cracking down on California like never before.
For 8 years, President Barack Obama was complicit with a culture of corruption throughout California. When four state senators were arrested, convicted, and sentenced, no one said anything. San Francisco State Senator Leland Yee was the chief gun control advocate in Sacramento, and he was gun-running to terrorists and gang-bangers in San Francisco!
Well, well, well. The liberals in Sacramento are defined by corruption, in which there is a set of laws for them and a set of laws for everyone else.
But we are not going to have it.
Now that Law and Order President Donald Trump is in the White House, we will see federal agents starting cleaning house in California.
This article came out in the San Gabriel Valley Tribune this morning:
The FBI and federal immigration agents on Wednesday searched a hotel and two homes in the San Gabriel Valley for evidence related to an alleged $50 million visa fraud scheme that gave green cards to Chinese nationals, including criminals on China's most wanted list.
Visa Fraud? Immigration is in the crossfire, people!
Agents served search warrants at an office located at the Hilton hotel at 225 West Valley Blvd. in San Gabriel, a house in a gated community in the 700 block of Carriage House Drive in Arcadia and a townhouse on Larry Beard Drive in South El Monte.
Officials said they believed that the alleged scheme that began in 2008 bilked investors through the EB-5 visa program, which allows foreigners to get a green card in exchange for investing at least $500,000 in an American business that must also create 10 new jobs.
FBI Special Agent Gary Chen alleged that Victoria Chan, an attorney who lives in South El Monte, along with her father, Tat Chan, exploited the visa program by persuading over 100 Chinese nationals to invest more than $50 million through a fund operated out of offices on the ground floor of the Hilton in San Gabriel, according to the 113-page affidavit filed in support of the search warrants.
But instead of investing the money with American businesses, Chen said the suspects spent the money on personal items, cars and homes. They are believed to have bought more than a dozen residences in cities across Southern California, including Diamond Bar, Arcadia, Bradbury, Rancho Cucamonga and Riverside. Five of the nine homes are worth millions.
What were the consequences for this immigration fraud scheme?
"As a result of the fraudulent scheme, many foreign nationals were able to improperly obtain U.S. green cards through the EB-5 visa program, even though those foreigners did not in fact truly invest in U.S. businesses, nor were new (full-time) American jobs created," Chen wrote in the affidavit.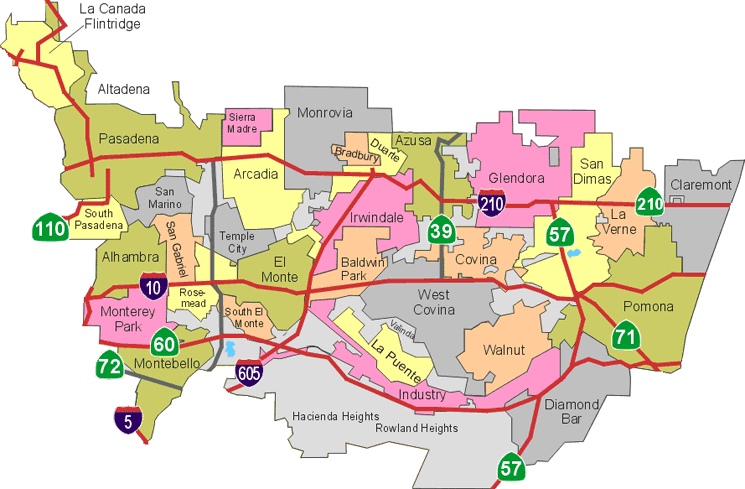 San Gabriel Valley
More illegal aliens enter the country and there were no jobs. So, what about all that talk that illegal aliens do the jobs that no one else will do?
Virginia Kice, spokeswoman for Immigration and Customs Enforcement, said no charges have been filed at this point.
Remember that the federal officials who invaded the Bicycle Casino and Hotel said the same thing. At first, there are no arrests, but more will come.
But what is going on? Whom are the federal officials targeting? What evidence are they hoping to find?
According to the affidavit, the Chans registered at least six businesses to the West Valley Boulevard address. Officials said they were used to pool millions of dollars in EB-5 investor funds. An additional two other businesses, identified as CIIF Hotel Group LP and CIIF Investment Group LP, were registered to an apartment in Garden Grove on Chapman Avenue in a complex called Chapman Commons.
More good news, and the hopeful responses to follow:
Eimiller said officials hoped the news of the search warrants would encourage other witnesses to come forward. She declined to comment further.
What are the alleged crimes committed in this immigration fraud?
mail fraud
wire fraud
visa fraud
money laundering
What did the federal investigators seize?
client files
emails
computers
cellphones
immigration records [BINGO!!]
bank records
travel-related documents
deeds
documents on real estate deals
utility and cellphone bills
records of payments and documents associated with CIIF or its related companies.
There is so much more to this seedy immigration, EB-5 scheme:
The revelation of Wednesday's alleged fraud scheme was the second time in the past three months that federal investigators have revealed that criminals on China's most-wanted list attempted to obtain visas through EB-5 fraud.
And yet amnesty advocates think that enforcement advocates are paranoid or racist.
Here are clear-cut examples of illegal aliens abusing the system and undercutting Americans. They are threatening our national security.
Did I forget to point out these Chinese illegal aliens are on China's Most Wanted List?!
Final Reflections
Here are a few takeaways from this article:
1. Illegal immigration is about the abuse of the American entry system, period. It's not about targeting individual residents of a specific ethnic background.
2. Illegal immigration is not just about crossing the Southern border of our country. It's also about VISA abuses, including overrstays as well as fraud.
3. Illegal aliens are not necessarily doing jobs that Americans will not do. In cases like the above criminal investigation, men and women are mooching off the system or taking advantage of fraud to enter this country without any regard for our laws or our customs.
4. Trump is on the job and engaging federal law enforcement officials to crack down on the rampant abuse of our immigration laws.