I thank God every day for the Remembrance Project.

They have taken on the important duty of representing the families and loved ones who have lost their loved ones in turn to illegal aliens.

Every state is a border state.

Illegal immigration is not a victimless crime!

And this week, the Remembrance Project saw incredible victories take place!
CALIFORNIA MEMBERS OF THE REMEMBRANCE PROJECT WELCOME ATTORNEY GENERAL SESSIONS TO CALIFORNIA!
4/21/17 The California members of The Remembrance Project welcomed Attorney General Jeff Sessions and Homeland Security Secretary John Kelly to California as they staged in front the border patrol station when Sessions and Kelly addressed the nation at a press conference in San Diego.
The motorcade of Attorney General Sessions and Homeland Security Secretary Kelly.



ARTICLE
Remembrance Project Members Give Their Take on Jeff Sessions-John Kelly Address
---
---
AN INCREDIBLY FULL AND HISTORICAL WEEK

---
Angel Wife Ruth Johnston Martin: 'Pelosi has lost her way'
CALIFORNIA - Ruth Johnston Martin, widow of Officer Don Johnston tells of the horror her heroic and courageous husband who placed himself in harms way to save the life of an innocent bystander.

An illegal alien, who had been released from jail just three (3) days prior, shot Officer Johnston in the neck, the bullet went through his neck and severed his spine and vocal cord. He was paralyzed from chest down and was mute before learning to speak
---
April 27, 2017

Angel Mom Agnes Gibboney Testifies

WASHINGTON, DC - Angel Mom, Agnes Gibboney gave congressional testimony before the House Oversight & Government Reform.


---
Angel Mom Laura Wilkerson on President Trump's VOICE Program

"...in

April of 2015

we started asking for a
national progam..."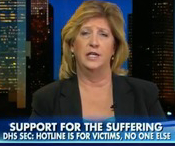 TEXAS - Laura and George Wilkerson's son, Joshua, was brutally murdered by a DACA-age schoolmate. Laura attended the press conference to roll-out the VOICE program. Sec. Kelly, Congressman Bob Goodlatte and other dignitaries attended.

LEGAL NOTICE: This email and any files transmitted with it are confidential and intended solely for the use of the individual or entity to whom they are addressed.Any review or dissemination, distribution, or duplication of this communication is strictly prohibited. If you have received this email in error, please notify the sender immediately by e-mail, and you are therefore notified that disclosing, copying, distributing or taking any action in reliance on the contents of this information is strictly prohibited.
---
www.theremembranceproject.org
P.O. Box 15448, Washington, DC 20003
202-579-0062
The Remembrance Project is a 501(c)(3) non-profit.