MassResistance Special Update
Pro-family activism June 1, 2017
Has the time come to form an Oregon chapter of MassResistance?

There's a big opportunity this weekend to get it started!
To: MassResistance activists and supporters in Oregon


From: Brian Camenker, president of MassResistance


Many people in Oregon have been asking us when we were going to form an Oregon chapter of MassResistance. Everyone has been seeing the horrible things that have been happening to pro-family citizens, their families, and their children.

There's the explicit, graphic, aggressive sexuality and LGBT agenda targeting schoolchildren. There's the oppressive moves to drive into bankruptcy any businesses - such as the Kleins' bakery - whose owners dissent from the idea of "gay marriage." And so much more.

People want to fight back. Well, I have some great news.

Arthur Schaper, the successful leader of California MassResistance, will be in Oregon this weekend

(Saturday evening thru Monday) to meet with any of you interested in

getting an Oregon chapter up and running! He's also there to do pro-family activism.

As the founder and leader of California MassResistance, Arthur has become internationally known and
a legend in pro-family activism.
He has a lot to talk about!

If you would like to meet with Arthur Schaper or talk with him, he can be reached at 310-793-8647 or
arthurschaper@hotmail.com
. You will definitely find this valuable!

Here's Arthur's schedule - including plenty of activism:
He will be arriving

at Portland

International Airport at 7 pm this Saturday evening, June 3.




In Portland: On Sunday, June 4,

at 2:00 pm he will be at the conservative Free Speech rally at the Terry D. Schrunk Plaza, 364 SW Madison St., in Portland.


Also in Portland:

He has contacted Melissa and Aaron Klein of Sweet Cakes Bakery and hopes to meet with them.


On Monday morning

at 10:00 am he'll be at the State Capitol in Salem.


At the State Capitol:

He will visit the office of Secretary of State Dennis Richardson - the state's only major Republican officeholder, who beat the Klein's tormenter, Labor Commissioner Brad Avakian, in the 2016 election. He also plans to visit State Rep. Andy Olson (R-Albany)


On Monday afternoon

he will go back to Portland and fly back to California.
This a rare opportunity to connect with a big-name activist -- and be at the ground floor of a great new movement in Oregon!

Get in touch with him now if you'd like to join him at any of these meetings.

MassResistance now has over a dozen chapters across America and around the world - from Maine to California, including Australia, Nigeria, and the UK. And powerful ones in Texas, Missouri, and Nebraska. We are the epicenter of fighting back against the often vicious attacks on people's traditional values and religious belief.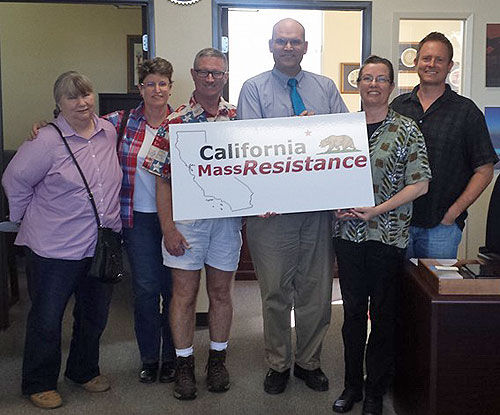 Arthur Schaper (wearing tie, holding sign) in the office of California State Assemblyman David Hadley with fellow activists, lobbying to stop a bill that would oppress religious freedoms.