LAWLESS SANCTUARY CITY POLICIES WILL HAVE CONSEQUENCES IN TEXAS!
Texas passed a strong sanctuary city bill filed by Texas State Senator Charles Perry from District 28, Lubbock, Texas, who sent the press release below.

(In the last session of 2015, two GOP Senators Craig Estes and Kevin Eltife voted against a bill that would have banned sanctuary cities in Texas. Sheriffs and police chiefs in Houston, San Antonio, Dallas, and Austin have opposed banning sanctuary city policies even though those cities deny being safe-havens for illegal aliens.)

Families like Fred Funderburgh's family know the truth. Mr. Funderburgh's son and daughter-in-law (Billy and Natalee Funderburgh) were violently crashed into from behind by a drunk illegal alien driving over 65 mph last June. Billy and Natalee were dragged for over 200 feet.

Fox video report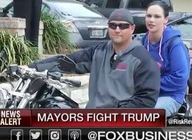 SANCTUARY CITY BAN PASSED IN TEXAS

May 3, 2017

AUSTIN, TX – Today, Senator Charles Perry (R-Lubbock) the author of Senate Bill 4, which bans sanctuary cities in Texas, concurred with the House changes to the bill. Senate Bill 4 now heads to Governor Abbott's desk.

"Banning sanctuary cities is about stopping officials who have sworn to enforce the law from helping people who commit terrible crimes evade immigration detainers. Senate Bill 4 protects all Texans though uniform application of the law without prejudice," said Sen. Perry.

Sen. Perry continued, "I want to thank my colleagues in the Senate and House, especially Representative Geren for carrying the bill in the House. I also want to thank Governor Greg Abbott, Lt. Governor Dan Patrick, Attorney General Ken Paxton, and Speaker Straus for their commitment to banning sanctuary cities in Texas."
###
Houston ABC 13 report
Maria Espinoza, co-founder of the Houston-based "The Remembrance Project," issued the following statement after SB4's passage:
Texas again leads the nation with its new hard-hitting legislation aimed at ending Sanctuary Cities in Texas. It contains provisions that not only allow arresting officers to finally do their job, but also to hold those who choose not to follow the law personally liable.

At a time when mayors, sheriffs, and state houses are publicly and unlawfully placing the rights of illegal aliens over its citizens, Texas is sending a message that the safety and well being of Texas citizens will come first.

The Remembrance Project, which has been in this fight since 2009, congratulates all of the Texas conservative organizations that have fought so hard for this for nearly 20 years. I credit the many "Stolen Lives" families of those killed by illegal aliens who have testified in Austin since 2011, and who have appeared on the national stage and on national and local media, bravely telling their stories. I also truly believe that this bold move by the Texas legislature was inspired by the leadership of President Donald Trump, who first made this a national issue in 2015 in his unlikely road to the White House, making this another Trump "America First" victory.