MEMORIAL DAY
REMEMBERING THOSE WHO DIED TO
PRESERVE OUR LIBERTIES AND FREEDOMS

President Trump
visited Arlington National Cemetery to perform one of the most solemn duties as commander-in-chief—laying a wreath at the Tomb of the Unknown Soldier. This was
his first Memorial Day address to remember, and honor, the men and women who died fighting for the United States of America.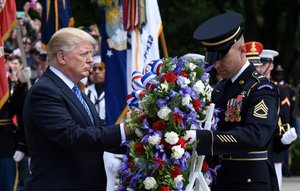 Photo: President Donald Trump participates in a wreath-laying ceremony at the
Tomb of the Unknown Soldier at Arlington National Cemetery on Memorial Day,
May 29, 2017 in Arlington, Virginia.
Olivier Douliery — Pool/Getty Images
We must not forget their sacrifices!
Photo: Keep the Spirit of '45 Alive. The men and women in this
group carried the photos of brave men who died for our country.
We owe a deep gratitude to them, and their families.
Photo: Goreville Wildcats - Goreville, Illinois, were
among many bands from all across the U.S.
Photo: Korean War Veterans
Photo: The Village School Band - Houston, Texas.