Rep Pete Aguilar Alert
REP PETE AGUILAR PHOTO DISRESPECTS AMERICAN FLAG: Wears F*ck GOP Shirt!

Contact Rep Pete Aguilar https://aguilar.house.gov/
CALL HIM @
(202) 225-3201
https://twitter.com/reppeteaguilar
https://www.facebook.com/reppeteaguilar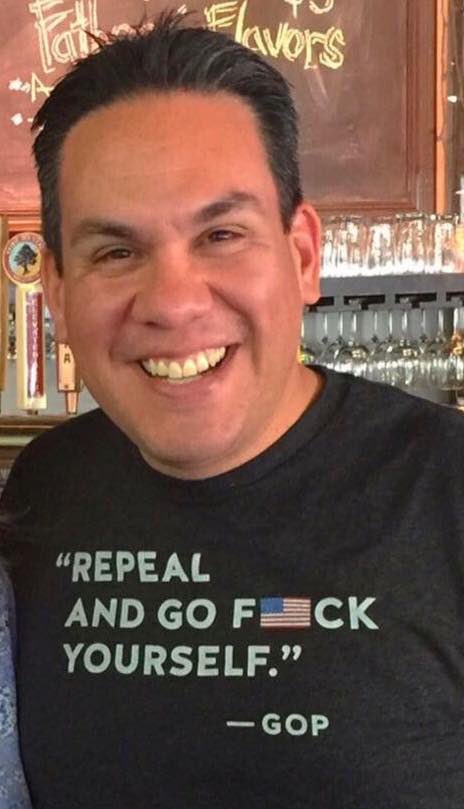 By JEFF HORSEMAN | jhorseman@scng.com | The Press-Enterprise



Pete Aguilar's shirt profanely slams the GOP health care bill — and riles an assemblywoman



PUBLISHED: May 24, 2017 at 3:41 pm
http://www.pe.com/2017/05/24/pete-aguilars-shirt-profanely-slams-the-gop-health-care-bill-and-riles-an-assemblywoman/

A Republican assemblywoman is calling out an Inland Democratic congressman for a photo of him wearing a T-shirt that uses an obscenity to criticize the GOP health care bill.




The Twitter feed of Assemblywoman Melissa Melendez, R-Lake Elsinore, features a photo of what appears to be Rep. Pete Aguilar, D-Redlands, in a bar.




The undated photo shows a smiling Aguilar wearing a navy blue shirt with the phrase "'Repeal and Go F— Yourself.' – GOP," a shot at the Republican-backed American Health Care Act that narrowly passed the House in a party-line vote.




Reached via email about the photo, Aguilar's spokeswoman, Sarah Weinstein, wrote: "Here are 23 million reasons," and provided a link to a Congressional Budget Office report that found the House GOP health care plan would leave 23 million people without insurance.




Asked if the photo was authentic, Weinstein wrote: "That was my response."

Reached via text, Melendez wrote she saw the pictures via two social media posts, including one from the Redlands Republican Women's Club, Federated.




"How disrespectful of the office he holds," the club said. "Is this the way you want Congressman Pete Aguilar representing you? And to use the American flag this way?"

The shirt worn by Aguilar has become popular on social media. A photo making the rounds features House Speaker Paul Ryan standing next to a man in that same shirt, with Ryan apparently unaware of what the man is wearing.




The shirt's slogan has been attributed to "Pod Save America," a liberal podcast featuring former staffers for Hillary Clinton and Barack Obama.




Also, Democratic National Committee Chairman Tom Perez has repeatedly dropped profanity in stump speeches when talking about Trump.

Melissa Melendez ✔@asmMelendez

"This is how @RepPeteAguilar represents his constituents," Melendez wrote on Twitter. She ended the tweet with "#disgrace."
Assemblywoman Melissa Melendez, R-Lake Elsinore.