Assemblyman Roger Hernandez (D-West Covina) is in a heap of trouble.
In 2014, he was a vulnerable Democratic under investigation from the Fair Political Practices Commission.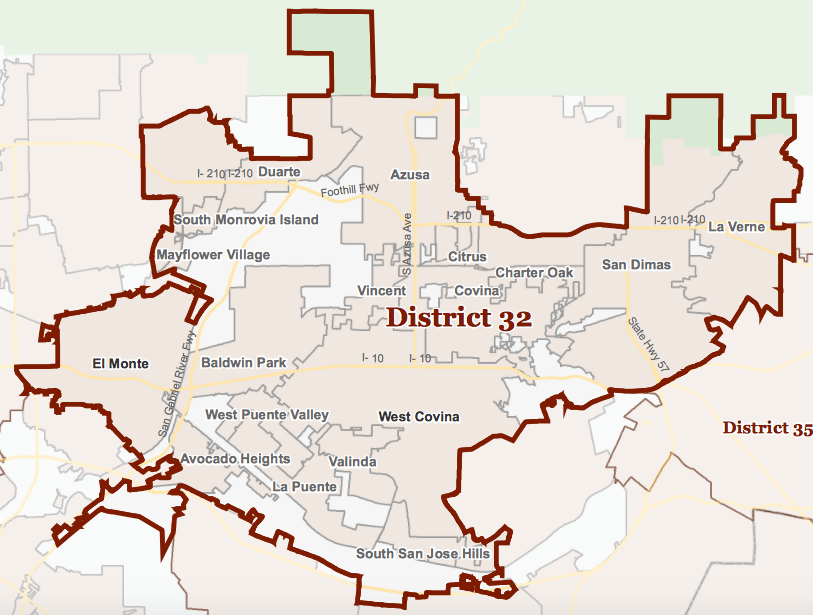 Now he is challenging another ethically challenged incumbent, Grace Napolitano.
And the stories about him just get worse:
From the Los Angeles Times:
Judge orders West Covina assemblyman to stay away from wife following domestic violence allegations
Ouch!
A California assemblyman seeking a congressional seat has been ordered to stay away from his estranged wife, a Baldwin Park City Council member, after she said he violently abused her during their marriage.


Democrats should be ordered to stay away from public office in the state of California!
Four California Democratic lawmakers were arrested, indicted, and/or convicted for serious public integrity/corruption charges in 2014. Their spate of corruption continues unabated.
What is the matter with these people? Do they really believe that they are above the law, or something?!
Los Angeles County Superior Court Commissioner Alan Friedenthal granted a temporary restraining order Wednesday that requires Assemblyman Roger Hernandez (D-West Covina) to have no contact with Councilwoman Susan Rubio, whom he is divorcing.
The Democrats are facing deep divides in the state of California. The grassroots v. the Establishment, and now they have to start asking themselves: "Will more races come down to who is out of jail and who is still siting in jail?"
Hernandez, who has served in the California Assembly since 2010, is challenging Rep. Grace Napolitano (D-Norwalk) for her 32nd Congressional District seat.
Married in June 2013, Hernandez and Rubio began divorce proceedings in 2014. Rubio alleges in a declaration seeking the order that during the marriage, Hernandez engaged in "pushing, shoving, hitting and choking" her.
They were married for barely a year?
Rubio said that after an April 5 divorce hearing, an enraged Hernandez came "aggressively" toward her and began shouting in her face.
Roger Hernandez
"I was frozen and not able to react," she stated, noting that her attorney blocked the assemblyman from moving closer.
Rubio said the act was "extremely frightening" and gave her "flashbacks" of the violence during her marriage, so she decided to seek the restraining order, according to court documents.
Rubio said in her declaration that she was "physically attacked, assaulted, battered, and suffered injuries." She attached several photos, including one of a bruised and scratched left arm. She also accused Hernandez of damaging "numerous items of personal property in his violent and out-of-control anger."
Hernandez attorney Steve G. Fox told The Times that he and his client have not seen the restraining order.
Steve Fox is the attorney? Is this the same one who lost an assembly seat in 2014 to Tom Lackey?
There's a who lot of trouble brewing in the San Gabriel/710 corridor.
Napolitano has caught with her hand in the political cookie jar, too!
From the Los Angeles Times:
Napolitano herself came under fire in 2009 when it was reported that she collected at least $158,000 in interest on loan she made to her 1998 campaign.
From Breitbart:
Rep. Grace Napolitano has bagged at least $294,245 since 1998 by loaning her congressional campaign money at interest rates up to 18%–a scheme that effectively funneled campaign contributor donations directly into her personal bank account.
The self-loan ruse was exposed Sunday night during a joint investigation by 60 Minutes and Government Accountability Institute (GAI) President Peter Schweizer based on Schweizer's forthcoming book, Extortion: How Politicians Extract Your Money, Buy Votes, and Line Their Own Pockets.
Wow! Democrats make a stink about Republicans who rely on donors to pay for their campaigns. Then they take taxpayer dollars through high interest schemes to fund their own?!
After numerous attempts to interview Napolitano, Kroft finally confronted her outside a Hispanic Caucus meeting.
"She told us that as a woman and a minority, banks wouldn't lend her money, so she had to withdraw $150,000 from an investment account to lend it to her campaign," said Kroft.
Kroft then questioned why she would charge 18% interest. "That's what the Mafia gets," said Kroft.
"It isn't like I've really profited," said Napolitano. "I still live in the same house. I drive a small car. I am not a billionaire, or a millionaire, for that matter."
Napolitano double-dips taxpayers
with political loans
OH! So it's because she's brown? She could not get a necessary loan to finance her campaign from a bank, so she took tax money.
And they refused her because she is Hispanic ...
More like ethically challenged. And she does not live in the district that she represents, either.
Playing the race card is getting all played out. Someone needs to deal Napolitano out of her district
Schweizer exposes Napolitano's self-loan money extraction technique in Extortion.
In 1998, Rep. Grace Napolitano (D-CA) loaned her congressional campaign $150,000 at a staggering 18% interest. Napolitano then let the loan linger unpaid for 20 years. In the first decade of the loan, Napolitano bagged $200,000 in interest payments. Then in 2006, Napolitano lowered the interest rate to 10% and kept drawing interest checks. In the 2008 and 2010 elections, the California Democrat pocketed another $94,245 in interest.
WHAT?!
So, Roger Hernandez is a wife-beater, and Napolitano a tax cheater.
Can't the San Gabriel Valley do better these two Corruptos?!