I had to reread this story when I found it.
A police officer in flood-ravaged Louisiana wanted to pray for the victims, men and women whose homes were swept away, families whose lives and legacies were irrevocably changed. Even as I write this, I think of Hardy Jackson, devastated by Hurricane Katrina in 2005, who could only moan to the cameras: "
I've lost everything
. I'm lost. I'm lost."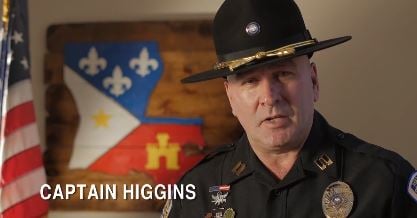 "This flood has been Biblical in proportion, and requires a Biblical response."
Every crisis we face, we can rest in the promises of God's Word to find an answer.
Higgins recounted the incalculable losses which his fellow Louisianans had lost in this unprecedented flood, once in 1000 years.
He then explained that The Red Cross was running the shelter, a private firm with a consistent set of rules t guide their operations. One of those rules? People cannot walk around the shelter and offer prayer and support to displaced victims. Higgins was clear: he was offering support, not forcing prayer and devotional activities on other people.
The Red Cross staffers told this police officer, who was not on duty at the time, that he could not pray with and for the people in the shelter!
Outrageous!
Fox News Opinion Columnist Tom Starnes reported:
But from others records of what happened, Higgins was not looking for free press or donations.
He just wanted to pray with the people in the shelter.
Instead of support, he received calumny:
Higgins said he was escorted to a Red Cross supervisor who asked him to leave.
"I was told that the Red Cross does not allow spiritual counseling in their shelters," he said. "The supervisor told me the Red Cross is not a religious-based organization and they don't allow religious interaction with the residents."
During the conversation, a flood victim asked Higgins to pray. The captain was obliged but had to do so outside the Red Cross shelter.
"Christian compassion was not welcomed there in the manner I had provided," Higgins told me.
"There's hundreds of people in a shelter of different values and faith," she shares, "and they're sharing a very open space – and we just want them to be able to have their privacy."
She says Officer Higgins would have been given a room where people could have come to him for prayer, if they wanted, but they won't allow people to just go in and start praying.
Granted, no one—especially someone who is running for Congress and in some likelihood seeking publicity. And yet, there was no politicking.
A more egregious incident casts a darker light on the Red Cross' "non-discriminatory" practice:
Meanwhile, a pastor in the town of Albany told me that four families left a Red Cross shelter after they were told they could not pray or read their Bibles at their cots.
"They got upset and literally packed up their stuff and came right here," said the pastor, who asked not to be identified. "A Red Cross worker told them they could not pray or read their Bible in public."
So, what do you do when an agency, whether public or private, says that you cannot pray?
Pray anyway!
What do you do when an agent of a private firm says "You can't read your Bible here?"
Read it anyway!
Come on, Body of Christ. We have braver examples set out for us!
Daniel prayed ... anyway!

.
The Prophet Daniel was a captive youth in a foreign land, probably 17 years old. He was firm in his faith, trust the Lord to care for him. Despite the pressures around him and among his Israelite cohorts, he did not cave to the culture.
When the jealous pagans of the Medo-Persian Empire wanted to eliminate Daniel, they deceived King Darius to pass a draconian decree:
" … that whosoever shall ask a petition of any God or man for thirty days, save of thee, O king, he shall be cast into the den of lions. Now, O king, establish the decree, and sign the writing, that it be not changed, according to the law of the Medes and Persians, which altereth not. Wherefore king Darius signed the writing and the decree. (
Daniel 6: 7-9
)
In short: "Don't pray at all, or you will die!"
Did our beloved Daniel stop praying? No way!
"Now when Daniel knew that the writing was signed, he went into his house; and his windows being open in his chamber toward Jerusalem, he kneeled upon his knees three times a day, and prayed, and gave thanks before his God, as he did aforetime." (
Daniel 6: 10
)
Daniel just kept on keeping on.
Officer Clay Higgins could have just kept praying.
The other families could have kept reading. What was the Red Cross going to do, send them out? Have them arrested? Certainly, they would not face any fatal or capital punishment for exercising their God-given natural rights.
No, Believers. We have a Constitution, by the Grace of God, which "secures the blessings of liberty." More importantly, we have a new standing and power because of the more important Red Cross, the one that Jesus died on for us. This nation needs to pray, and we should not stop when someone says "No you can't".
We need to pray for our Heavenly Father to open our eyes and see His love and goodness. We need to pray in the Spirit, keeping ourselves in the love of God. When we pray with others, let us focus on a true remembrance of God's greatness and goodness in the midst of theses trying tragedies.
If they say "don't pray", pray anyway!