The 2015 Torrance School Board election is in full swing, and I have had a great time reaching out to voters in Torrance.
The two incumbents, Don Lee and Terry Ragins, are facing off against two challengers, Clint Paulson and Rick Marshall.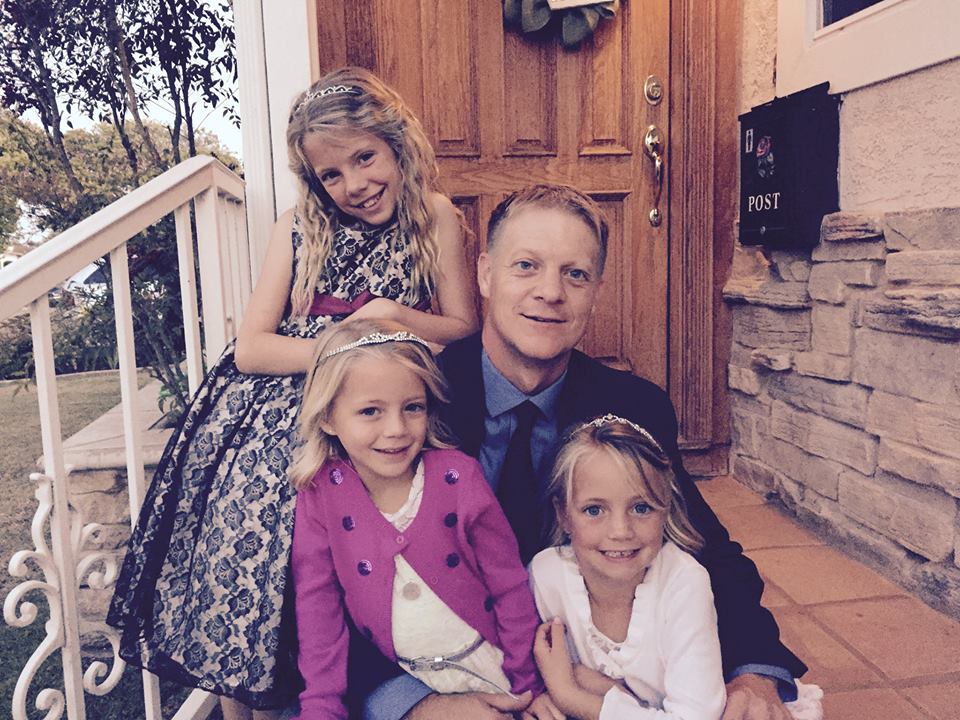 Clint Paulson with his three daughters
I have endorsed the two challengers, and I hope that more voters in the city of Torrance will agree and vote new leadership onto the School Board.
Yes, Torrance Schools are some of the best in the state.
They get high marks, the schools have great teachers, but I cannot say the same for the current board of trustees.
However, there are growing causes for concern, and more members of the community should be aware.
I have listened to members of the board ask some of the most simplistic questions, which they should have known already. One member asked: "What is a groundsman?" -- no joke! (Martha Deutsch)
One member shamed me when I asked if the school board was going to implement sex ed for third grades. His retort: "Don't tag me with this nonsense. What, are you bored?" (Michael Wermers, whom I had supported two years ago)
This kind of disrespect is intolerable.
One member of the school board admitted to me that he knows nothing about Common Core (Don Lee). Are you kidding me?!
That kind of ignorance is also intolerable.
Terry Ragins advertises
her endorsements from SEIU
and the Torrance Teachers Association, then claims that those endorsements prove that the employees have all lined up behind here. That is patently untrue. Besides, to be endorsed by a union -- at a point when public sector unions are rightly faulted for much of the fiscal problems and frustrations with education reform -- that is not really an endorsement.
Ragins has also criticized allowing parents in their community schools to raise funds for their own schools. She has advocate redistributing those funds to every school. That is wrong. Parents have every right to raise money and help out in their local schools for their kids. Don Lee told me that he would he support this program for three years, but would end the program if the high-fundraising schools did not teach other schools how to raise money. That is also wrong. No parent, no child should be left out or left behind on adequate funding. None!
Unsafe crosswalks, high labor costs, school board members who know nothing about curriculum or do not seem to care -- there is much not to like about the current trustees. Current members do not even attend key committee or public hearings on major issues, like the Exxon-Mobil safety problems and the communication failures which followed. Where is the leadership? Where is the representation?
Rick Marshall
Voters are telling me that they do not like the status quo. They do not like Common Core. They do not like a school board which sits and does nothing to recoup $109 million from the legally flawed lease-lease back contracts, and when they learn about allegations of sexual misconduct against a teacher, a coach and and an after school tutor, they get increasingly alarmed.
Where is the transparency? Where is the accountability? Where is the safety and security?
People are getting angry - and that's precisely what it takes to motivate people to get off the couch and vote.
Clint Paulson has four kids in public schools - all working hard. He and his wife Mindy volunteer countless hours for their local school.
Rick Marshall has pressed for openness and accountability on the school board for years. He has spear-headed a number of efforts to control costs in the city of Torrance.
On November 3rd, Vote for Clint Paulson and Rick Marshall for Torrance School Board.