Christians--and Americans in general--are facing attacks on their religious liberty like never before.
Not just with shaming or ridicule, but now Christians are forced to compromise their values, or go out of business, lose their jobs, or even face massive fines or jail time!
In California, the state legislation now wants to impose more restrictions on the practice of our faith in Christ and our Great Commission to spread to the Gospel.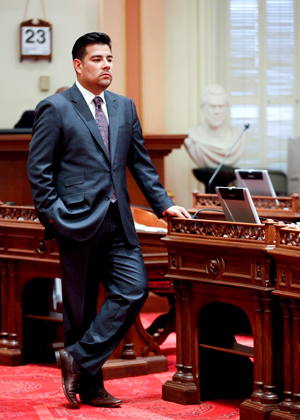 State Senator Ricardo Lara
anti-Christian, anti-liberty bigot
Senate Bill 1146 will lead to more discrimination against Christians, particularly Christian institutions of higher education!
The bill's author, California State Senator Ricardo Lara (D-Bell Gardens, Long Beach) claims the following:
"Under state law, at least 34 California universities are exempt and do not have to comply with state nondiscrimination laws, leaving thousands of students open to discrimination based on their sexual orientation or gender identity. These universities have a license to discriminate and students have absolutely no recourse. Addressing this issue is long overdue."
What will SB 1146 actually do?
Here are key concerns about this legislation:
Eliminate faith-based decisions when it comes to admission, housing, and perhaps even employment at faith-based campuses

Require institutions that receive California public funds and that claim an exemption from state or federal discrimination laws and regulations, as specified, to provide public disclosures
Imagine Christian Colleges forced to do the following:
·

Allow men who identify as women into women's bathrooms.




·

Limit pastors and Christians professors' discussion on Biblical principles relating to gender, marriage, family, and sexual behavior.




·

Forbid private and parochial schools from operating in line with their biblical values!
This bill could force Christian schools to abandon their intended mission altogether.
What schools will your children go to, who are seeking a Bible-based education based on truth and revelation, as opposed the decadent secularism eating away at our society?
But you can make a difference! You can stop this anti-freedom bigotry, even in liberal California.
By encouraging your congregations to rise up and stop this terrible bill, you can ensure that your First Amendment Freedoms of Religion, Speech, Press, Assembly, and Petition will remain strong and growing!
A time and place have been organized with California MassResistance Director Arthur Schaper.
State Senator Ricardo Lara's Long Beach Office:
LONG BEACH DISTRICT OFFICE
3939 ATLANTIC AVE., SUITE 107
LONG BEACH, CA 90807
PHONE: 562-256-7921
FAX: 562-256-9991