MassResistance Update
Pro-family Activism

"Aggressive fighting for the right is the noblest sport the world affords."
- Theodore Roosevelt
February 17, 2021
MassResistance was hit hard by the "cancel culture." But we're back!
On Monday, Feb. 8, MassResistance suddenly discovered that our credit card processing had been shut down. The bank had abruptly decided that it didn't want to deal with a pro-family conservative organization.

We all know about the vicious efforts by Big Tech, Corporate America, and the Left that have erupted to silence and destroy conservatives – usually called the "cancel culture."

The financial industry has been particularly aggressive.

According to national news, Bank of America collaborates with the government to secretly give the travel and purchase credit card records of conservatives to the FBI. JP Morgan has closed the bank accounts of known conservatives. Several major banks have recently refused to do business with Trump companies, or industries such as gun manufacturers and others that they disagree with politically. The corporate culture in the financial industry is very poisonous. They give hundreds of millions of dollars to Black Lives Matter/Antifa organizations as well as anti-family LGBT groups and Planned Parenthood.

For nine harrowing days we worked to deal with this. Any of you who tried to donate online was told his credit card was "declined." For our monthly credit card donors, the donations were delayed.

Finally, yesterday MassResistance signed up with another bank that's willing to work with us. We're back up and running! But being down this long hurt badly. Those of you who tried to donate by credit card over the last week and were unable to, please come and try again! This is a crucial time to donate to MassResistance and keep us going strong! (Here's our donation form.)

The real heroes in this are the folks at Cornerstone Payment Systems. They are the credit card merchant service provider that stuck with us through all of this, connected us with the right bank, and made sure everything got set up again properly. Cornerstone is a Christian-run company that will never "cancel" pro-family conservatives. Pro-family and conservative groups may be tempted to use "easy" solutions like Pay-Pal, Stripe, and Square – but these are horrible anti-family companies that will eventually de-platform you. And other companies are also a big risk.

Over the past several years, MassResistance has taken steps to make as much of our operation as possible - including web and information technology - safe from these kinds of attacks and "cancellations."

Make no mistake about this. In totalitarian countries such as Nazi Germany, the USSR, and Communist China, the "cancel culture" was always the first step before death camps. The people who decide to fire you or destroy your business because of your beliefs actually want to destroy you personally. Normal people don't do this to others. Their hatred really is that powerful. We need to learn from history. Unfortunately, most of the conservative movement isn't paying attention.

The only solution is to aggressively confront it. With your help MassResistance is dedicated to doing just that!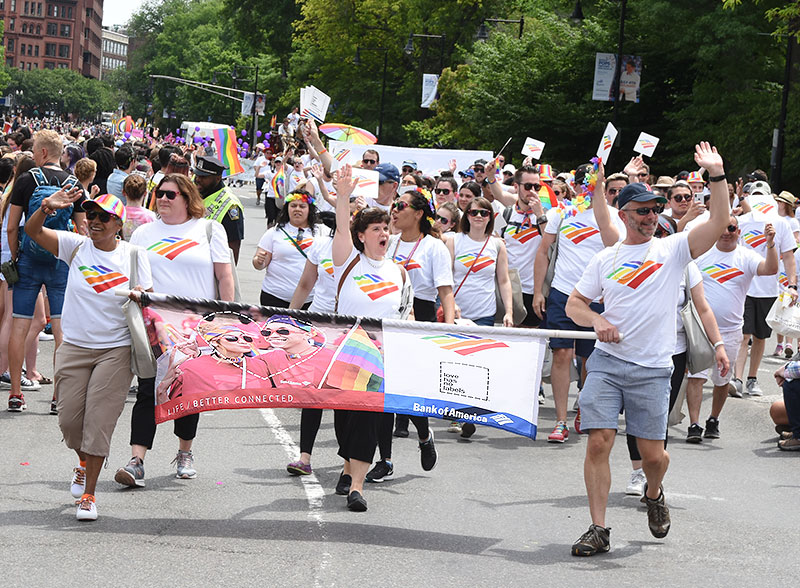 Showing their corporate values: At a recent Gay Pride Parade in Boston, Bank of America had a contingent of about 100 marchers. [MassResistance photo]
For all recent posts see our website.

Donate to MassResistance.
©2021 MassResistance, All Rights Reserved

Our mailing address is:
MassResistance
PO Box 1612
Waltham, MA 02454 USA
781-890-6001

This email was sent to:

arthur@massresistance.org