Thanks to many of our supporters, around 400,000 active citizens wrote to the Directors of Disneyland Paris to ask the European park to protect children and cancel the "Magical Gay Pride Parade" that was planned for June 1, 2019. This was the first "gay pride parade" officially organized by one of Disney's amusement parks.
This was the fastest-growing campaign in CitizenGO history.
Despite the amounts of pressure we put on Disneyland Paris and the signatures we delivered in Paris, Madrid, and London, unfortunately, our efforts fell short and Disneyland Paris, the largest European children's amusement park, went ahead with the event that took place a few days ago.
Our campaign was big enough to reach the Walt Disney President & CEO, Mr. Robert A. Iger. He was delighted to received support from LGBT lobby groups, however, according to our internal sources -- at the same time -- he is growing concerned that our campaign may cause families to boycott Disney parks, movies, and merchandising if he continues to support the indoctrination of children with gender ideology and the LGBT agenda in their parks (and beyond).
Help us increase our pressure. Please sign our new petition to prevent the next gay pride parade and similar events from happening in any Disney park.
Our new campaign hopes to generate more than one million petition signatures
addressed to the Walt Disney Company President & CEO (Robert A. Iger) and the Disney Board of Directors.
Right now, at Disney headquarters, in California, the Disney Board of Directors are discussing what to do next year to celebrate "Pride" from their list of options:
1.
Expand the gay parades
to several Disney parks.
2.
Maintain the gay pride parade
in Disneyland Paris.
3.
Quit
and no longer organize gay pride events.
In the following weeks, we expect the Walt Disney CEO to make a decision, that's why it's important to sign this new petition now.
We are under the impression that Disney's CEO is considering to organize gay pride parades and events every year... and not only that, he is even considering to spread it among all Disney's amusement parks around the world. If we don't convince him to stop this madness, there will not be a single Disney park left free of the LGBT agenda and indoctrination! The dreams of children will no longer free of ideology!
Disney is even using children to fiercely promote this agenda. Look at this picture, it was taken (and shared) at the Paris "gay pride parade":
If you want to avoid this from happening again, please sign our new petition addressed to the Walt Disney President & CEO.
We need your help to be more active in our fight against the LGBT lobby pressure Disney receives internally each day. This new petition is much more ambitious. It's addressed to Robert A. Iger, the Walt Disney President & CEO. We're asking him to STOP indoctrination of children, in parks and film productions around the world. We don't want Walt Disney to officially organize gay parades or events.
Thanks to inside information that we received, we've learned that in the following weeks, the Walt Disney CEO will decide whether to organize LGBT events or to respect parents and avoid promoting the LGBT agenda. We're launching this new campaign to make it clear to Disney that promoting the LGBT agenda is a mistake. We want to see a family-friendly Disney again. Help us by signing this new petition!
We want to be sure that the Walt Disney CEO knows that if he makes the wrong decision and promotes the LGBT agenda in their parks, they will pay for it. It's one thing is to respect all people because of their sexual orientation, but it's another thing is to get into the minds of our children promoting a specific sexual behavior in childhood. What's the relationship between children entertainment and sexuality?
This drawing was published by the official Paris "Magical Gay Parade" account: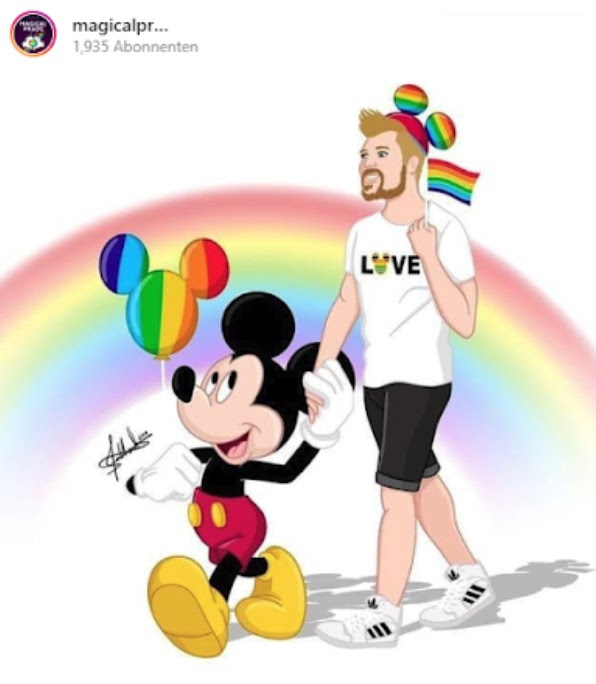 We are launching this new global campaign to make sure Disney's CEO understands that we are serious. We demand that they stop the indoctrination of children around the world. The "Magical Gay Parade" they already organized in Paris could be the first event of a long list of LGBT events and activities Disney might organize to indoctrinate and impose gender ideology upon our children.
You see, Disney may think it's safe to pander to forceful voices of LGBT activists, but the company's finances, and stock value, is built on the support of families. By signing your petition and getting others to sign, you send a clear message to the Disney company -- stop promoting homosexuality or lose your good name.. and money.
It has happened once, and we will not allow it to happen again.
Your signature will be used to ask Disney's CEO to cancel any future "Magical Pride" and other scheduled gay pride events to protect children and keep Disney a welcoming place for people from all backgrounds and beliefs.
Gregory Mertz and the entire CitizenGO team
P.S. Once you've signed, share our new global campaign addressed to Robert A. Iger, Disney's CEO, to demand that he stops the LGBT indoctrination of children in parks and film productions.
Our new sharing options make it easy to share on WhatsApp to friends and families and of course very easy to share with your email lists and on social media.