Lyin' Ted is pushing mask mandates and vaccines like you wouldn't believe.
What a joke! Give me a break!


Dear Neighbor:
Making the right decision for the U.S.'s national interest does not ease the pain of watching Afghanistan – a country in which we have invested so much over the last two decades – deteriorate in a matter of days. My heart aches for the thousands of Afghans fleeing for their safety. The U.S. must do everything in its power to evacuate those who helped us, as well as those whose lives are now threatened under Taliban control. To read my full statement on the situation in Afghanistan, please click here.

My office is monitoring the situation closely, and receiving updates from the Department of State, including guidance for people on the ground in Afghanistan seeking to depart as soon possible. Please share the State Department's information and guidance (linked here) with any interested individuals in Afghanistan with whom you may be in contact. For any questions you may have that are not answered in the Department of State's guidance, please contact my office at 323-651-1040.

This week, H.R. 4, the John R. Lewis Voting Rights Advancement Act, was introduced in the House. I am honored to be an original cosponsor of this critical legislation to protect voters against discrimination by restoring and strengthening key provisions of the Voting Rights Act of 1965 that were gutted by the Supreme Court. The right to vote is the most sacred right we have as Americans. With this legislation, we are standing up against coordinated state-level attacks on voting rights and honoring the legacy of John Lewis and other brave Americans who fought and bled for the right of all Americans to vote. I look forward to voting in favor of H.R. 4 next week when it is considered by the House.
COVID-19 Updates
As of today, the safe and effective vaccines are continuing to offer fully vaccinated people a high degree of protection against the worst outcomes of COVID-19: severe disease, hospitalization, and death, including against the widespread Delta variant. But even highly effective vaccines experience a reduction in protection over time.

On Wednesday, federal public health officials announced a plan to begin offering COVID-19 vaccine booster shots this fall. The Administration is not recommending you go out and get a booster today. Instead, starting the week of September 20th, fully vaccinated adults could begin getting booster shots 8 months after their second shot of an mRNA vaccine. This decision was made entirely based on science in an effort to stay one step ahead of the virus. For more on this announcement, please click here.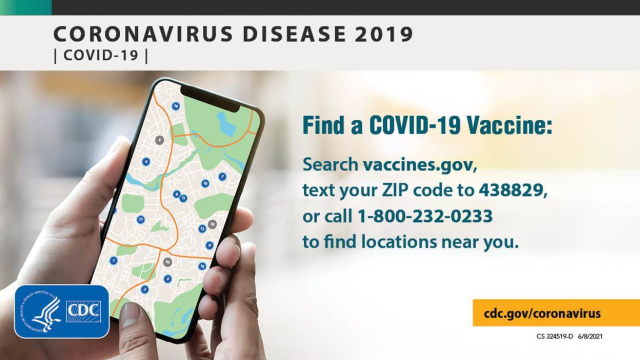 This has become a pandemic of the unvaccinated. Getting the vaccine could save your life. Please, if you haven't done so already, get vaccinated to protect yourself and those around you.
Get Vaccinated!
If you have questions about the vaccine, please consult your doctor.

Everyone age 12 and older who lives or works in LA County is eligible to receive the COVID-19 vaccine. Please check VaccinateLACounty.com for updated information on walk-in vaccinations or to book an appointment ahead of time. To find a vaccination site near you, please visit corona-virus.la/VaxSites. Minors must be accompanied by an adult and bring a signed consent form to receive the Pfizer vaccine.

If you have a disability or do not have access to the internet and need assistance making your vaccination appointment, you can contact the County's Call Center –– open from 8:00 a.m. to 8:30 p.m. –– at (833) 540-0473. You can also call this number or fill out an online request form if you or a family member need to be vaccinated at home.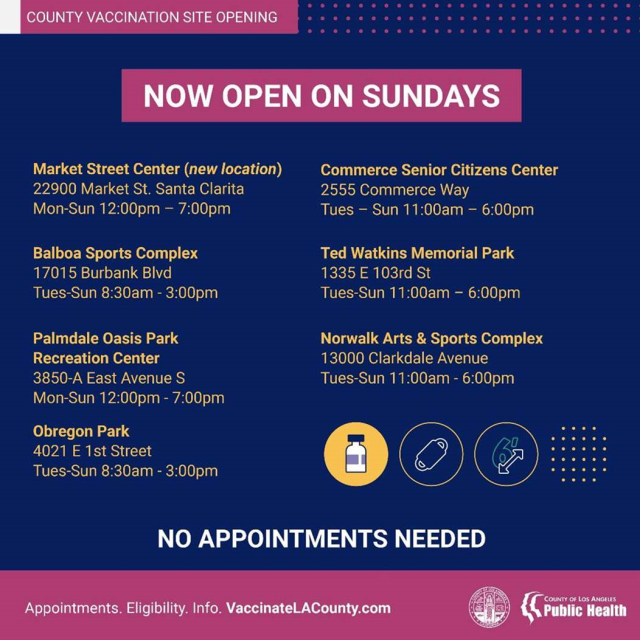 Additional Resources and Reminders
Third doses of the COVID vaccine are now recommended for individuals who are immunocompromised. If you qualify, please speak to your healthcare provider to confirm eligibility.


Masks are now required at outdoor mega events in LA County, regardless of vaccination status.




While kids under the age of 12 are not yet eligible for the vaccines, there are ways to help keep them safe until they can get vaccinated, including washing hands frequently, choosing outdoor spaces to gather, and more.




If you need rental assistance, please view this Rental Assistance Tool from the Consumer Financial Protection Bureau to find help with rent and utilities. You can also apply for the California COVID-19 Rent Relief Program, which provides financial assistance for rent and utilities to income-eligible renters and landlords who've been impacted by COVID-19. Depending on your address, you may also be eligible for a local rent relief program.


To view reopening protocols for K-12 schools in LA County, please click here.


The CDC is now officially recommending the COVID-19 vaccine for anyone who is pregnant, breastfeeding, trying to get pregnant now, or might become pregnant in the future. To view the CDC's vaccine guidance for pregnant people, please click here.


Please renew your passport at least six months before it is set to expire. The State Department is processing an unprecedented number of passport applications and renewals. If you plan to travel abroad, please ensure your passport is up to date. To renew, please visit travel.state.gov.


The West LA VA is offering walk-in vaccinations for veterans of ALL ages and their spouses or caregivers. Please call 310-268-4900 for information about walk-in times and locations.


If you need someone to talk to, please call the LA County Department of Mental Health hotline at 800-854-7771 or text "LA" to 741741.


If you are in need of food assistance; housing relief; information about COVID-19; and more, please call 2-1-1 or visit 211la.org.
As your Member of Congress, my top priority is to help keep you and your family safe. My staff and I will continue to provide you with updates on COVID-19 and vaccinations, as well as my work in Congress on behalf of CA-33. For more information, please visit publichealth.lacounty.gov and follow me on Facebook, Twitter, Instagram, and YouTube. I look forward to updating you again soon.
Stay safe.
Sincerely,
Ted W. Lieu
Member of Congress
Washington, DC
403 Cannon HOB
Washington, DC 20515
Phone: (202) 225-3976
Los Angeles Office
1645 Corinth Ave., Suite 101
Los Angeles, CA 90025
Phone: (323) 651-1040
Manhattan Beach Office
1600 Rosecrans Ave., 4th Floor
Manhattan Beach, CA 90266
Phone: (310) 321-7664
Maybe he needs to get back to being a good father, instead of bribing Stanford University to take his kids!