One of two Republican LA County Board of Supervisors, Mike Antonovich, may be termed out, but he is not bowing out of state politics.
Three days ago,
KTLA reported
:
The contest to succeed Democratic state Sen. Carol Liu when she leaves office next year has drawn another big name: Los Angeles County Supervisor Michael D. Antonovich.
The Republican supervisor, who like Liu is being forced to leave his current post by term limits, has filed papers giving his intent to run for the 25th Senate District seat next year.
"I have a proven track record of building bipartisan coalitions to accomplish goals and objectives," Antonovich told The Times on Wednesday.
He joins an already crowded field of other hopefuls who have filed papers, including state Assemblyman Mike Gatto (D-Los Angeles) and former Democratic Assemblyman Anthony Portantino.
Democratic State Senator Carol Liu, the chairman on the senate education committee, helped kill statewide school choice in California. Then her office was raided by the FBI, possibly in connection with the Democratic corruption which swept four other state senators out of office.
25th State Senate district (Meridian Pacific Images)
The 25th state senate district, which comprises the Northern LA County foothills, from Burbank to Claremont, is a proven stomping ground for the conservative Republican, who won reelection consistently in the region.
The Democrats, hoping for an easy win, with two Democrats ascending into the Top Two general election, now have to contend with a popular and well-known conservative Republican vying for the seat
T
he race for Sen. Carol Liu's seat was long suspected to be a nasty and expensive showdown between Democratic rivals Mike Gatto and Anthony Portantino, current and former assemblymen, respectively.
Then veteran Los Angeles County Supervisor Mike Antonovich, who is termed out next year, announced he would run.
While the 25th District leans Democratic, and includes other lesser-known candidates, the Republican supervisor is exceedingly well known across the foothills, having been elected to the board in 1980 . He was first elected to the Los Angeles County Community College District Board of Trustees – in 1969 – the same year as Gov. Jerry Brown.
Antonovich has long-standing connections in the region, as his Board of Supervisors site overlaps much of the region. Granted, his non-partisan office may have shielded voters and the media from pressing hard on his conservative views. Now the California Democratic Party is wasting no time impressing prospective voters that he is "too right-wing" for the San Gabriel Valley.
The Democratic Party's early concerns about holding the Senate seat have manifested in a new

opposition-research website

that paints Antonovich as too conservative on social and environmental issues. It also lists various supposed ethical lapses (showing favor to certain lobbyists, overseas trips and questionable contributions), along with sections on "inappropriate emails" and "head-scratching decisions."
This is the best that they can do? "Head-scratching" decisions. How about explaining to the voting public why Senator Liu's office was invaded by the Feds?
"When a longtime supervisor jumps into a race for partisan office, voters often don't know their real record because the board is not covered broadly," Los Angeles County Democratic Party Chairman Eric Bauman said by phone. The "party believes voters in L.A. should know just how partisan and just how conservative Mike Antonovich is and that's why we are behind this effort."
The party may also be employing the line of attack to try to muscle Antonovich out of the race because they would far rather see a same-party run-off, and to reassure their donors that the situation is under control. Regardless, Antonovich's Rocklin-based consultant said the supervisor has looked through the website and isn't worried about its content, much of which has been documented in news reports over the decades.
"No voter is paying attention to any of this nonsense," Dave Gilliard said. "Mike Antonovich has been around a long time, and he's not going to be intimidated by a website."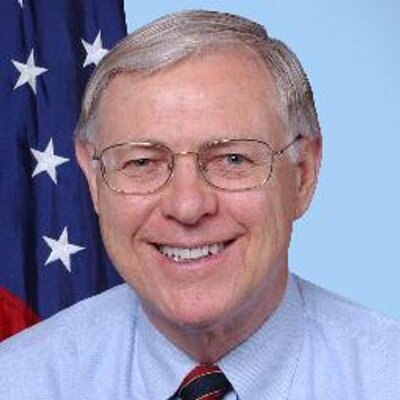 Mike Antonovich (Twitter)
Reflection
The Democratic Party lost their supermajority muscle in 2014, and with Antonovich in the state senate, Democrats would lose another vote. The former college board rep has a solid record of fighting taxes and waste, and was the only BOS member to reject taxpayer-funded health insurance for illegal aliens.
With the disturbing death of Kathryn Steihle in San Francisco, followed by the brazen efforts of Democratic lawmakers and local city councils to legitimize illegal aliens, immigration is a hot topic once again in California, particularly in Los Angeles County.
If liberal operatives are already attacking Antonovich to push him out of the race, then he is already off to a good start.