I have written at length about my hopes for the East Bay State Senate District Seven, which encompasses Livermore and Walnut Creek all the way . Just when a number of interested politicos have given up on the special election race, a mailer promoting a now inactive candidate for the race surfaced in East Bay neighborhoods, prompting concerns of malfeasance and distortion, particularly from members of the East Bay Asian Community.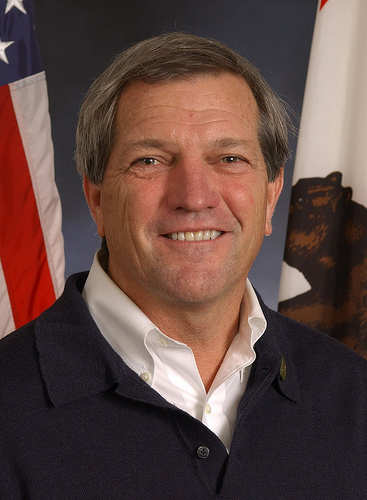 Mark DeSaulnier
First, a little background.
During the 2014 general elections, State Senator Mark DeSaulnier cruised to victory in the East Bay Eleventh Congressional District one represented by George Miller.
DeSaulnier then announced his resignation from Sacramento, and his senate seat came up for grabs. Two entrenched liberals with their diverse machines in the Northern (Susan Bonilla) and Southern (Joan Buchanan) parts of the district will be duking it out for a significant share of Democratic votes.
Special elections as a rule receive a low-turn out, and with the November elections behind us, followed by a special election in South Los Angeles (where barely 2% of the electorate turned out), the March 17 election to replace DeSaulnier won't gather a great deal of attention.
Mark Meuser
Following months of interest and preparation from one Republican Mark Meuser, the prior state senate Republican candidate who had challenged DeSaulnier in 2012, he was gearing up for the special election, raising money, contacting supporters, and going to campaign stops.
At the last minute, he chose not to file papers, and Mayor Steve Glazer of Orinda, along with three other Democrats (including current Assemblywoman Susan Bonilla and retired member Joan Buchanan) entered the race.
One Republican ultimately did file, Michaela Hertle, but after talking with former and current party leaders in the region, I learned that Hertle had little experience in electoral politics, having never run for office before. Some partisans even feared that she would not get on the ballot because her signatures would not qualify.
Michaela Hertle
The Secretary of State did declare Hertle
an official candidate for the special election, yet within days she announced that she would not actively campaign for the seat. Instead of running,
she endorsed Steve Glazer
, the reform Democrat who cut off ties with Establishment Democrats after endorsing Republican Catharine Baker for the 16th Assembly District (which she won). Glazer
has already listed Hertle's endorsement
for his centrist, pro-union reform platform. Nevertheless, Herlte did file, and her name will appear on the ballot for the March 17th special election primary.
Local Republican activists sent to me a picture of the following flyer:
Asian American Small Business PAC Mailer
Michaele Hertle is promote as the best candidate for the race, a real Republican (true) who can stand up for votes in State Senate District Seven.
The other side of the mailer lists: "Real Values. Real Reform. Real Republican."
Critics might add: "Real Fraud".
The post then lists Hertle as fiscally conservative, with an emphasis on government reform, and an end to gridlock. The last part is interesting, since Sacramento is dysfunctional, not because of partisan frustration, but one-party tyranny with Democrats pushing an aggressive agenda, halted by the slightly more conservative Democratic governor Jerry Brown. The recent election of Republican freshmen to Sacramento has provided some protections for small business and individual taxpayers, but Democrats are still firmly in control.
Now, either the political hopes of Republicans are renewed, or Democratic partisans are playing divide and conquer in order to force out conservative votes.
The political organization responsible for this flyer,
The Asian American Small Business PAC
(AASBPAC), hosts a website listing its dedication to electing and maintain Asian/Pacific Islanders lawmakers/politicians in Sacramento.
Bill Wong, the political director for the group, has his own strategy/political consulting firm. Specifically, he lists prior accomplishments getting Asian-American Democratic lawmakers elected.
Why is a Democratic strategist and his affiliated PAC promoting a Republican candidate for a special election, and a Republican who has announced her disengagement from the race?
Senate District Seven
One element is clear: this mailer is deeply misinformed or greatly misleading. Judging by the robust portfolio of Bill Wong and the professionalism of the AASBPAC, the strain of deception is prevalent. This ruse will cause what few Republicans do vote in the election to cast their votes for a non-competing partisan, while Democratic voters will get behind Buchanan or Bonilla and guarantee the seat to a liberal-union connected partisan.
Whatever the outcomes, Asian-American residents are deeply offended by this tactic.
George Yang, a Menlo Park Republican who ran for Lieutenant Governor last year, shared the following about this misleading mailer:
The Asian American voters in this district are pretty angry about these dirty tricks in their name. You can quote me on that.
Another resident shared the following with George Yang and me:
Get a mailer from "Asian American Small Business PAC", try to fool voters to vote the GOP candidate who already quitted the race. I never heard of this organization. Who is behind this PAC? Not nice using "Asian American name to get down this tactic.
Whatever the political machinations behind this deceptive pro-Michaela mailer, East Bay politics are getting rousing and dirty, and even though Republicans in the region do not have an active candidate in the SD-7 special election race, they may find a way to take advantage of these deepening rifts among liberal partisans, plus expose the unethical (and perhaps illegal) political campaign tactics of Democratic-affiliated PACS.