Charlotte NC Mayor
Patrick Cannon
Democrats are behaving badly this year, when they should be minding their manners, lest their 2014 shellacking shake them all the more.
In the supermajority Democratic states, like Illinois, Rhode Island, as well as California, politicians have been governing poorly and behaving badly, in some cases very badly. Aside from Maryland Democratic Congressman Elijah Cummings' attempts to distract Oversight Committee Chairman
Darrell Issa's investigations into IRS
intimidation,
Huffington Post
has reported Rhode Island
While right-wing blogger Michelle Malkin
alleges that the Obama Administration is cleaning out their own junk
before attacking Republicans later this year, the wide-ranging scandals under the Obama Administration, plus the rising conservative backlash in states like Georgia and even in Rhode Island suggest that voters liberal and conservative are getting tired of the #CultureOfCorruption endemic among Democratic politicians.
And of course, California Democratic lawmakers have been behaving badly, too.
Obamacare? Don't say that!
(Obama don't care!)
Democratic Speaker Gordon Fox's sudden resignation following FBI and IRS raids on his office; on Charlotte, North Carolina Mayor's Patrick Cannon resignation following his arrest for bribery and corruption; and also the raid on New York Assemblyman William Scarborough's office in connection with corruption investigations (two other NY state senators are under investigation, too).
In Congress, Democratic minority leader Nancy Pelosi takes reporters to task for
calling "Obamacare"
what it is. She then suggested that
Obamacare is affordable
, even though
Covered California
is not covering nearly as many as hoped, and in spite of the liberal LA-based magazine Jewish Journal's Jonathan Maseng
lamenting
the rising costs of his health insurance under Obamacare.
Now to Sacramento, where Democrats in 2012 grabbed supermajority status for the first time in decades, with a slightly more conservative Democratic governor Jerry Brown at the table. Like a doting mother keeping spoiled children in line, Brown has said yes to more spending, but also balanced budgets and vetoed some bad legislation. Still, the tale that California is in the black instead of the red is a blue myth, wounded purple by the struggling school districts still seeking funds lost from the Great Recession, plus a large case load of welfare recipients, prison overcrowding (and realignment), dry spells in the Central Valley. However, this left-leaning state may be seeing the light to the right and give the GOP a fighting chance at ending the Democratic supermajority.
From governing to behaving badly, four Democratic state senators have been implicated in public corruption, too, within a matter of months.
Wright is Wrong
In January,
State Senator Roderick Wright (D-Inglewood)
was found guilty of eight felony counts of perjury and voter fraud: not living in the district which he claimed to represent. Despite the convinced conviction of the jury, Wright has wrongly remained in office, and State Senate President Darrell Steinberg (D-Sacramento) said nothing, and did even less to have Wright removed.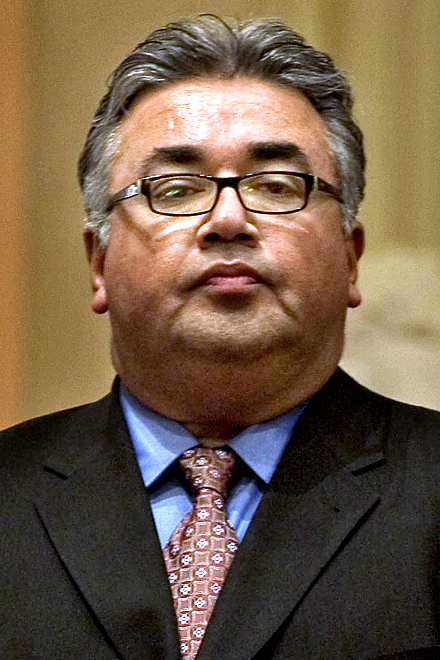 Ron Calderon
Cauldron of Corruption
Steinberg's hypocrisy knows no bounds, however, as another state senator,
Ron Calderon (D-Montebello),
part of a connected East Los Angeles political family, has been indicted on numerous counts of pay-for-play corruption, passing tax credits for hospitals and the movie industry for cash. Though indicted yet not convicted (despite the evidence against him, though technically innocent until proven guilty),
Steinberg has pressured Calderon
to step down.
Leland Yee: Indicted
This week, the cauldron of corruption is heating up in Sacramento, as another state senator,
Leland Yee (D-San Francisco)
was hauled away in handcuffs, arrested for more of the pay-for-play, but also gun-running with organized crime (and possible connections
with Islamic militants
) A state senator who hated guns and preached transparency, Yee has exposed the exact opposite. Steinberg urged Yee to resign of face suspension (not expulsion, though), and now Senate President
is prepping to follow
through (Yee will still get paid, though).
And now incoming
State Senate President Kevin De Leon
(D-Los Angeles) may be connected to
according to
American Thinker
, State Senate President Darrell Steinberg, who may be the core of the rotten core that is the Democratic dominance in California politics today.
Kevin de Leon (Smiling, for now)
Calderon's corruption, too. When will this not-so-merry-go-round of corruption end? Better yet, how many state senators does it take to root out the corruption in Sacramento? Only one,
While Democratic lawmakers in deep blue states have been up to no good this year, and all before April Fool's Day, sunny California has had a dark forecast of corruption cast over the statehouse, but GOP hopes are breaking forth, from a
central valley state senate upset
, to a
restored GOP mayor in San Diego
, and
another GOP win in the Inland Empire
.
With an extensive record of Democrats behaving badly, and Republicans winning again, let's hope that California voters stop the foolishness in Sacramento and vote the lawless Democratic lawmakers out of office in November.