When does this insanity stop?
When will corporate America get a clue and stop forcing this perverse, left-wing agenda onto consumers?
This is totally aberrant and abhorrent.
It's time to take a stand, and it's time to stay "Enough!"

Help us reach 150,000 signatures
Friday, March 1, 2019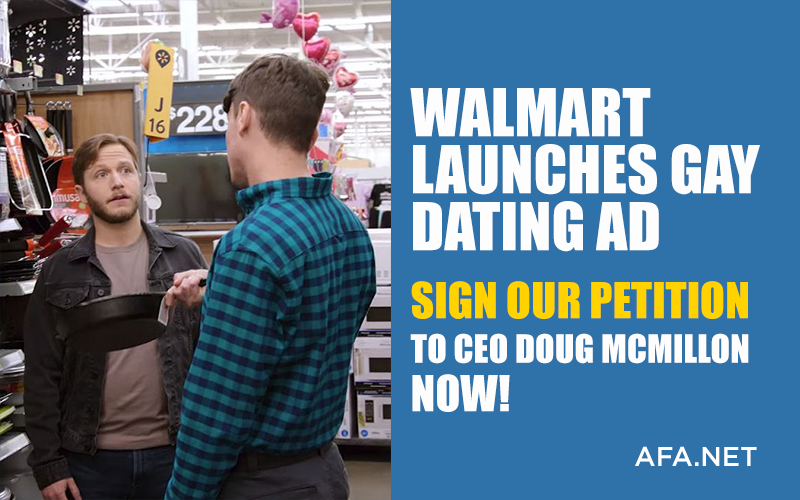 Dear Arthur,
In a move that most Christians probably never expected to see, retail giant Walmart has posted an online video that normalizes homosexual relationships.
For most Christians and other traditionalists, the idea that marriage is between a man and a woman is sacred. We've seen many large corporations reject that in their marketing, but I honestly never thought Walmart would join the cultural revolution and reject the beliefs of its customer base.
The ad is part of a campaign called "Love is in the aisle: A dating show at Walmart."
Episode 2
features Pat and Andy, two homosexual men on a "blind date" as they meet at the store and shop together. Through this process they discover whether or not they are compatible.
It's clear that Walmart is on the path of elevating homosexual relationships to the same level as the male-female model of marriage. We have no choice but to ask our supporters to let the company know how they, the customers, feel about Walmart's shift away from neutrality on this controversial issue to full support for same sex relationships.
At least with a company like Amazon, we knew they were liberal from the outset. But this seems more like a betrayal from a well-known friend. Sam Walton is probably turning over in his grave.
TAKE ACTION
2. After you sign the petition, contact your local Walmart store manager. Walmart makes it too difficult to contact them on a corporate level because of the seemingly endless menu that keeps you going in circles. However, you can speak directly to a live person by calling your local Walmart and asking to speak to the store manager.
Let your local store manager know you are extremely disappointed in Walmart. Firmly but politely urge them to send your message up the chain of command, urging Walmart to remove the pro-homosexual video and remain neutral on controversial issues.
3. Please share this email with family, friends and Sunday School members.

Tim Wildmon, President
American Family Association