MassResistance Update
Pro-family Activism

"Aggressive fighting for the right is the noblest sport the world affords."
- Theodore Roosevelt
July 15, 2020
MassResistance experts speaking at national pro-family conference this weekend

"Summit for Survivors of the Sexual Revolution" at the Ruth Institute has a powerful lineup of speakers

Attendance via livestream is available
The sexual revolution has brought terrible, destructive consequences to individuals and families across America and around the world since its inception in the 1960s.

The Ruth Institute (based in Lake Charles, LA) has long been at the forefront of providing research and educational tools to support those harmed by that social upheaval and the ongoing sexual-radical "culture war" it incited -- whether divorce, family breakdown, the hook-up culture, unwed parenting, LGBT issues, etc.

At the MassResistance "Teens for Truth" conference in Ft. Worth in 2017, the Ruth Institute's founder and president, Dr. Jennifer Roback Morse, gave a stunning presentation on "Understanding gender ideology -- the propaganda of the sexual revolution."
This weekend the Ruth Institute will hold its 2020 conference, "Summit for Survivors of the Sexual Revolution," will be held this

Friday evening and Saturday, July 17-18.

There is an all-star lineup of speakers, including:


Tracy Shannon,

our Texas MassResistance leader, will talk about confronting the horrific Drag Queen Story Hour events in public libraries across the state.


Dr. Paul Church,

a longtime MassResistance stalwart, will talk about his experience as a physician confronting the LGBT medical establishment. Dr. Church, a practicing urologist for over 35 years and former Asst. Professor of Surgery at the Harvard Medical School, was fired for challenging his colleagues to tell the truth about the health consequences of LGBTQ behavior. Dr. Church will be receiving the Ruth Institute's Professional Integrity Award.
Also:
Sue Ellen Browder

– a former Cosmopolitan journalist who tells the sordid story of how she and others writers for major American women's magazines inflamed the sexual revolution by purposefully publishing blatant lies about "normal" sexual behavior and abortion – to promote promiscuity among their readers. Her recent book is How I Helped the Sexual Revolution Hijack the Women's Movement.


Michelle Cretella, MD

. – pediatrician and Executive Director of the American College of Pediatricians. Dr. Cretella is the author of "Gender Dysphoria in Children and Suppression of Debate" in the Summer 2016 issue of Journal of American Physicians and Surgeons.


Doug Mainwaring

– an ex-homosexual, a father, and current journalist for LifeSiteNews. Doug will share insights into the LGBT agenda.


Dates and times:
Friday evening, July 17, 6:00 pm – 8:30 pm (CDT)
Saturday, July 18, 8:30 am – 5:30 pm (CDT)

Cost for watch entire conference live-streaming: $30.00
Register here.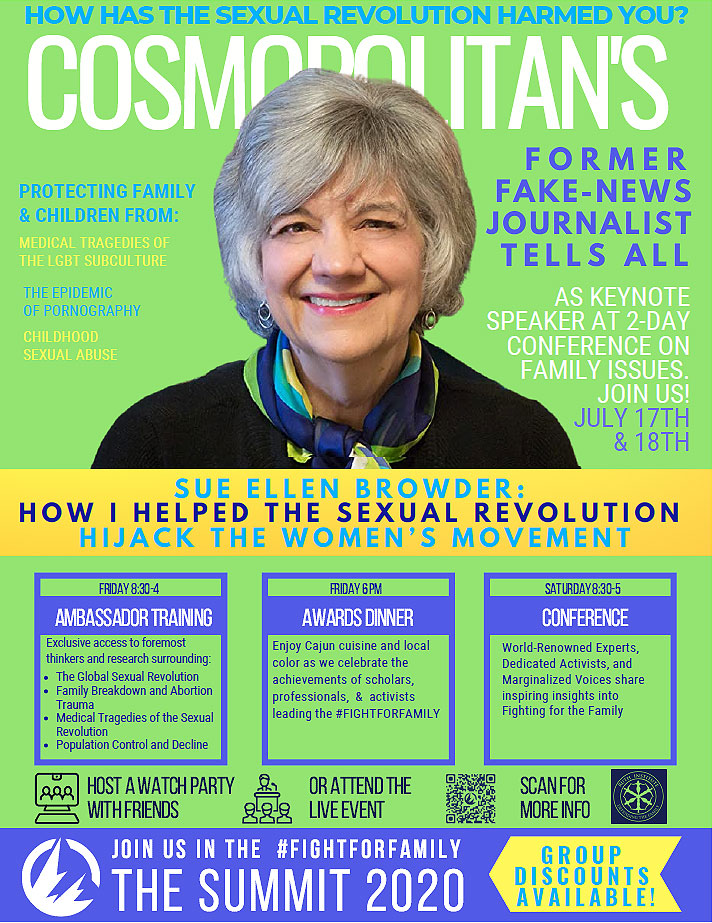 Conference flier featuring Sue Ellen Browder.
For all recent posts

see our website.
©2020 MassResistance, All Rights Reserved



Our mailing address is:


MassResistance
PO Box 1612
Waltham, MA 02454 USA
781-890-6001

To unsubscribe, email us back with "Unsubscribe" in the subject line
and we'll immediately take you off the list.